Assa Abloy's Aperio technology has revolutionised electronic access control systems.
Aperio is an access control system, allowing different users varying levels of access without the need for multiple keys.
Features
Real-time access control allows you to audit and alter access to the locks in real time
Retrofittable to most locks
Aperio's wireless system means there's no need for expensive, intrusive cabling
Each lock remembers its last 200 uses and commands
Aperio access control systems are made in Australia to national security and safety standards
Benefits of Aperio Access Control
No need for difficult cabling
Using short-wave wireless technology, Aperio allows our commercial locksmiths to convert most locks into access controlled locks without the need for expensive cabling.
Battery-powered cylinders and escutcheons or locks with integrated RFI readers can be retrofitted to both mechanical and electronic doors. These doors are then connected to a wireless hub, which then transmits their status back to your already existing access control software.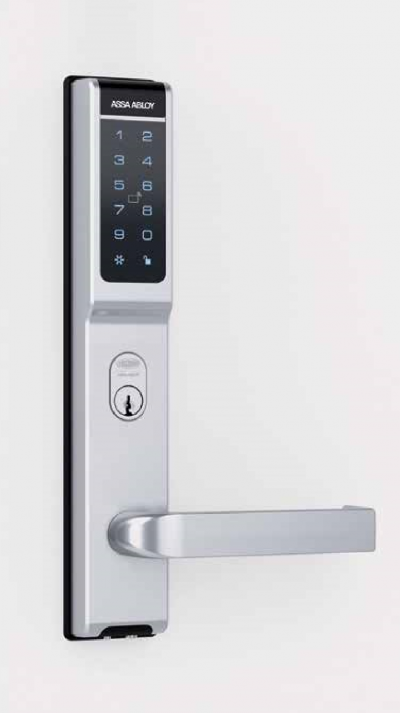 Aperio is a short-wave wireless system working in real time
Each wireless hub connects up to 8 different devices within a 25m range. The hubs allow for real-time access control, additional key override and auditing, so you can both see and control who goes through what door.
Use Aperio on any lock
Aperio devices can be fitted to any door requiring access control, including:
Windows
Display cases
Electronic servers
Internal doors
External doors (semi-protected)
Built-in memory provides extra security
For extra security, the Aperio access control offline cache will remember the last 200 uses of each lock. Its offline audit trails will also remember the last 200 events of the lock, including software changes, inside each lock.
Aperio is battery-powered
4 AA batteries will last in each lock for over 40,000 cycles, or about 2 years. When the battery life is low, a warning will be sent to the EAC system. Should the batteries run out before they are replaced, Aperio locks can also be overridden with a key.
No need to sacrifice safety for security
Fire-rated, internal doors always allow for emergency use, while external doors lock after a set period. Aperio technology also has remote opening and locking capabilities and each lock can be overridden with a key.
Contact Us
Our commercial locksmiths are ready to meet any of your business security needs. Contact us today to discuss what access control systems are right for your home or business and organise a free onsite quote.