Master Key System
We are Master Key and Restricted Key specialists. Our licenced locksmiths can design, install and manage multifaceted master key systems. Although they are complex key systems – our expert locksmiths focus on making them user friendly and easy for all key holders to use.
What is a Master Key System?
A master key system allows you to control who goes where within your building. The master key can open all locks in the security system, whilst additional keys (called change keys) can only open restricted areas.
Master Key Systems are exceptional access control systems allowing you to keep your home or work environment safe and secure for all users.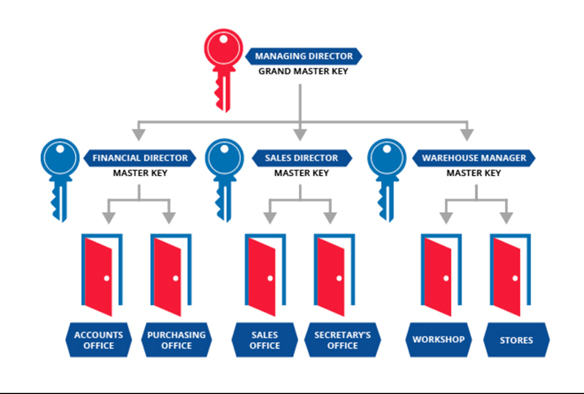 What is a Restricted Key?
Restricted keys cannot be copied by external locksmiths. Only the locksmith who created the original restricted key system can copy restricted keys. This is a very effective security measure, allowing only the key owner to make duplicates. Restricted keys provide a great level of security for any building that has multiple key users.
Using Restricted and Master Key Systems gives you the best access strategy for your building.
Promaster Key Management Software
Managing the keys in your system is an important task – keeping track of keys that have been issued or returned when staff leave can become complicated. A software management system, like Promaster Key Management, is an easy way to keep track and ensure your security is not compromised. Our local locksmiths can help advise you on the implementation of this system.
Using Restricted and Master Key Systems gives you the best access strategy for your building.
Why Choose Amalgamated Locksmiths for your Master Key System?
Our Master locksmiths create tailored solutions for your business
We ensure complex key systems are easy for our customers to use
Guarantee quality keys
30+ years of industry experience
If you are interested in our Master Key Systems – give us a call today!