Lockwood 110 Series Padlocks
Features
Chrome-plated shackles of hardened steel and a solid brass case make these padlocks corrosive-resistant. Our locksmiths recommend the 110 Series for residential and light commercial environments.
The 110 Series use pin tumbler locks, so can be keyed alike, for light commercial purposes, such as on toolboxes. Larger models, such as the 30mm, 35mm and 40mm padlocks are double-locking.
Solid brass extrusion
Chrome shackles
Self latching
Single locking mechanism on 20mm and 25mm padlocks
Double locking mechanism on 30mm, 35mm and 40mm padlocks
Pin tumbler mechanism
The Lockwood 110 Series are designed for barrier- and deterrent-level security. The 110 range are ideal for:
Lockers
Letterboxes
Toolboxes
Cabinets


Lockwood Victorian Power Industry Padlocks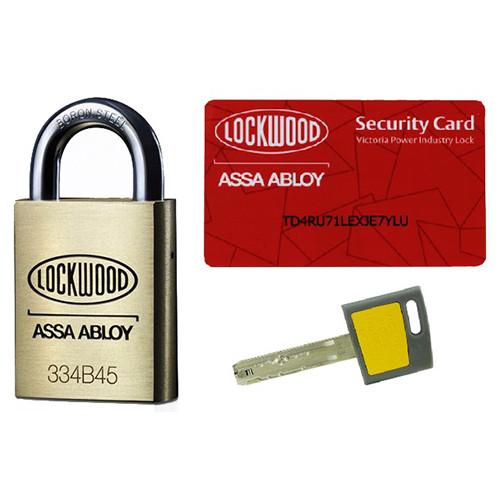 Features
Residential or commercial clients of CitiPower, PowerCor, United Energy, Jemena or SP AusNet  can secure their meter boxes by purchasing one of our official Victorian Power Industry Padlocks. Complying with the requirements of the Victorian Electricity Supply Industry (VESI), our meter box locks have been designed to allow meter box access to authorised VESI officials (meter readers) and building owners.
Double ball locking
Stainless steel shackles
Solid brass case
Standard as latching function


Abus 83/45 Brass Padlock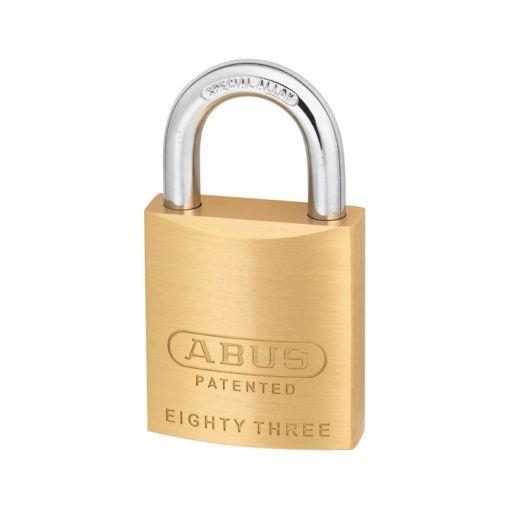 Features
The Abus 83/45 Brass Padlock range are larger padlocks. Our locksmiths recommend these padlocks for heavier applications. These padlocks are ideal for restricted key systems and can be keyed alike.
Double ball locking
Alloy shackle
6 pin barrel
Larger shackle sizes available (38mm, 50mm, 75mm, 100mm & 150mm)
Abus 158KC/45 Combination Padlock School Locker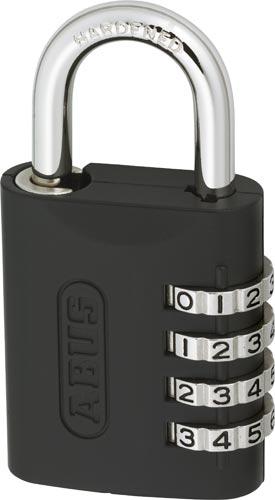 Features
This combination padlock opens using a four-digit code. There are no limit to the number of times the code can be reset, making these padlocks ideal for applications requiring transferable ownership. Lightweight, these padlocks are made from zinc diecast and, at 45mm wide, sit neatly on lockers. The Abus 158KC/45 Combination Padlock is therefore ideal for institutional use, such as in schools, gyms or on workplace lockers.
45mm body width
25mm vertical shackle
20mm horizontal shackle
6.5mm steel shackle
Restricted master keys available
Abus 83/45 Padlock Closed Shackle
Features
When locked, the special alloy, 25mm shackle of the Abus 83/45 sits within the brass lock body to prevent sabotage. Compatible with most restricted keying profiles, the 6 pin barrel can also be rekeyed or keyed alike.
11.1mm shackle diameter
25.5mm shackle clearance
55mm body width
675g weight
Amalgamated Locksmiths
Amalgamated Locksmiths offer a range of padlocks for residential and commercial applications. On site or at our Collingwood store, our locksmiths can help you find the right padlock for your security needs. We can also key alike and rekey padlocks, and cut spare, master and restricted padlock keys in line with Australian standards.
Our locksmiths are happy to help with any of your padlock inquiries. Come in store today or contact us for a free on site quote. Our mobile locksmiths operate throughout the Melbourne metro area and will be able to address any and all of your domestic or commercial padlock concerns.